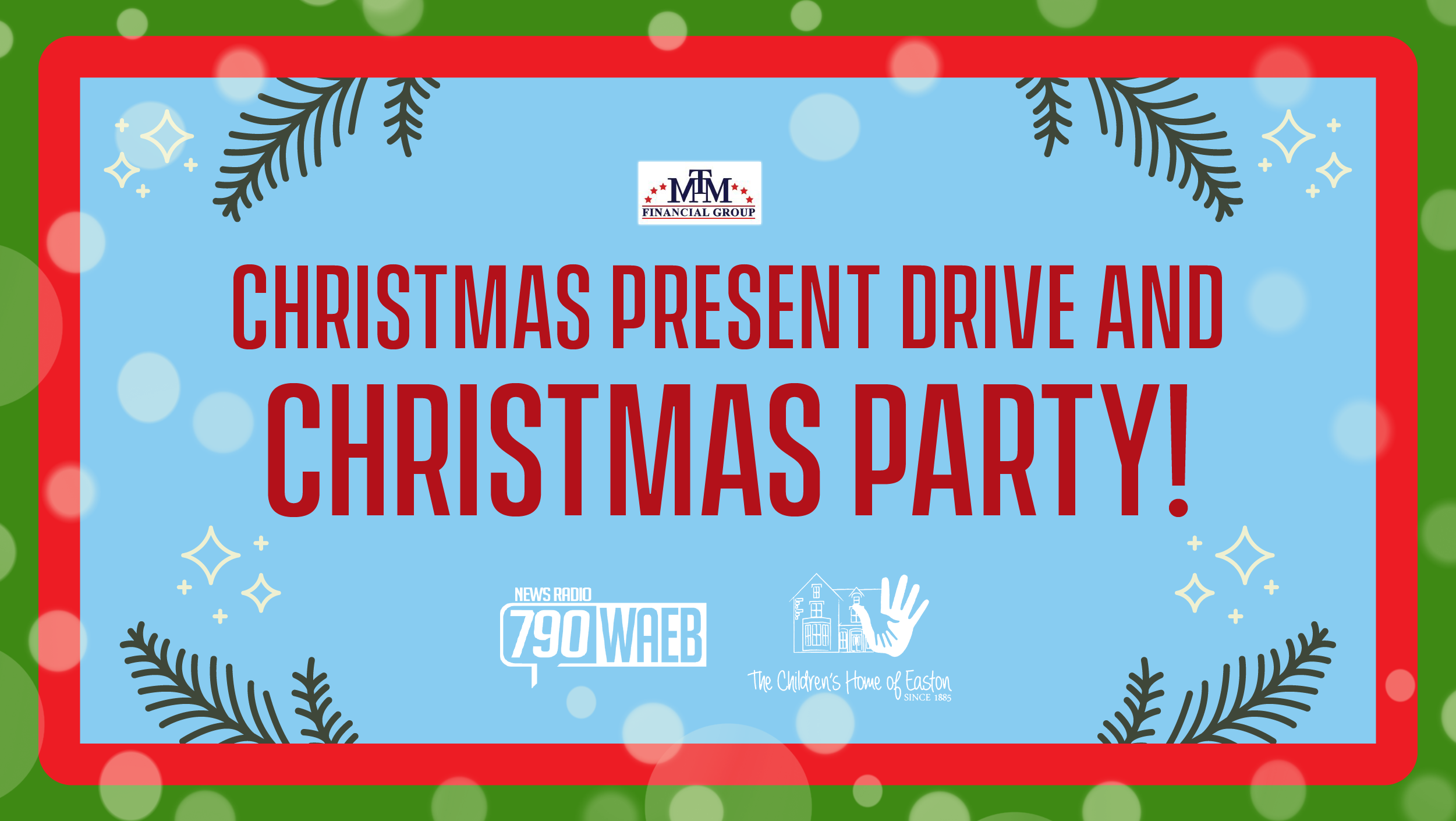 The Christmas Season is here! And it's time for the WAEB Christmas Gift Drive & Christmas Party for the Children's Home of Easton, powered by: MtM Financial Group - Home of More than Money with Gene Dickison! DATES TO KNOW FOR 2020:
Christmas Gift Drive: Thanksgiving Day, Thursday, Nov. 26th - Monday, Dec. 14, 2020
Christmas Party: Saturday, Dec. 19, 2020 - Children's Home of Easton
IRONTON TELEPHONE DONATION LINE: 610-841-4999
Just like year's past... listen to Bobby Gunther Walsh weekday mornings from 5am to 10am for Challenge Hours where you can double your donation dollars. There will also be stories of hope from the Children's Home of Easton staff and current / past residents. Thank you for your continued support!
>>CLICK HERE TO SEE THE CHILDREN'S WISHLIST<<
CHANGES / NOTES FOR 2020:
WAEB RADIO OFFICES REMAIN CLOSED TO VISITORS... ALL GIFTS MUST BE DROPPED OFF AT THE CHILDREN'S HOME OF EASTON. Please plan to drop gifts off at the Children's Home by Weds. Dec. 16th. Children's Home of Easton is located at: 2000 South 25th Street, Easton, PA 18042. Hours of operation are 8:30am to 4:30pm - Monday -Friday. Listeners can drop off gifts any time during those hours. Please try to CALL first before arriving. Phone number is 610-258-2831. Listeners can drop gifts off at the CHE main office. CHE will follow all CDC guidelines for visitors and guests MUST wear a mask to enter the building. | Donations of Gift Wrap, Tape, Bags and Bows are also welcome. Please do not wrap your gifts. Please include the child's name and age on your gift.
The Christmas Party Date is Saturday, Dec. 19, 2020 for the CHILDREN at the Children's Home of Easton - Unfortunately, this year, the Party will not be open to the public due to the COVID restrictions. As always, Gunther WILL be live on WAEB AM from Noon to 1pm on Dec. 19th, and the Party will be replayed on Christmas Day. Please tune in to WAEB AM 790, and enjoy the Broadcast. Thank you for your understanding. Wishlist Powered by: MtM Financial, PenTeleData & GuntherRacing.com
Check out the Wish List ABOVE and Select a Gift for the Child of your Choice. Please call the Children's Home of Easton / Ironton Telephone Donation Line: 610-841-4999 to let us know that you will be purchasing a gift for that child so we can mark it off our list. Thank you for your support! About the Children's Home of Easton:
Mission: Since 1885, The Children's Home of Easton has provided a caring, nurturing environment for children in need as well as assistance for their families. Our goal is to build, strengthen, and preserve every family's full potential. We are dedicated to creating family solutions while teaching and remaining true to our four pillars: compassion, respect, integrity and perseverance.