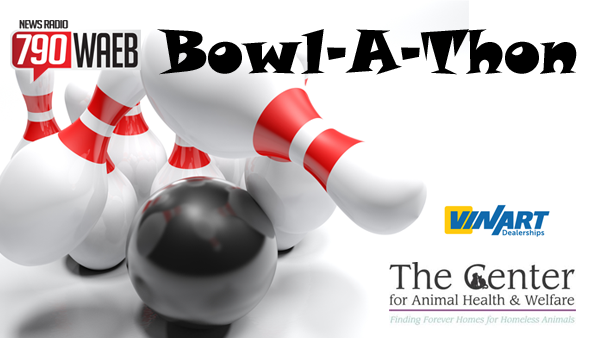 Thank you to EVERYONE who helped with our WAEB Bowl-A-Thon 2022! Our final total was: $156,743.93 for the Center for Animal Health & Welfare... THANK YOU, THANK YOU!
Going into the event... Gunther was rolling for $154,811.90... he rolled a SOLID 8 Pins!!!!! Add in another $1900+ at the Bowling Event... and we got to our grand total of: $156,743.93! Had we not had that crazy snow... we know the on site event would have been HUGE too! Thank you to everyone that was able to join us despite the weather!
Gunther would like to THANK...
First and Foremost... Our WAEB Listeners! You are AWESOME. Thank you, Thank you! And thank you for your lack of confidence in Gunther's Bowling... by doing flat pledges :)
The VINART Dealerships - Lehigh Valley Acura, Honda, Hyundai. Porche Lehigh Valley. Mercedes-Benz of Lehigh Valley.
John Gebhardt - Gebhardts Billiards and Home Recreation / Trophies - Thank you for the BEAUTIFUL trophy again this year!
The Challenge Money Sponsors - We are grateful for your genorsity!
Ironton Telephone - Our Pledge Line Providers!
Jordan Lanes - THANK YOU, THANK YOU! Not only a GREAT HOST location for our event... but due to the SNOW STORM... they generously gave us Bowling Passes for any BOWLING TEAM who could not attend the event date, but still want to turn in their pledge sheet to the Center for Animal Health and Welfare! Please contact the Center to turn in the pledge sheet / receieve your two free bowling passes!
The WAEB Crew... Craig, Dan, Tony, Eagle Jeff, Kathryn, Jeff M., Mandy ...
WAEB AM 790 would also like to thank Bobby Gunther Walsh for ANOTHER awesome fundraising event.GREAT JOB Gunther! And thank you to our WAEB Bowling Teams: Gunther, Dan, Craig, Tony!