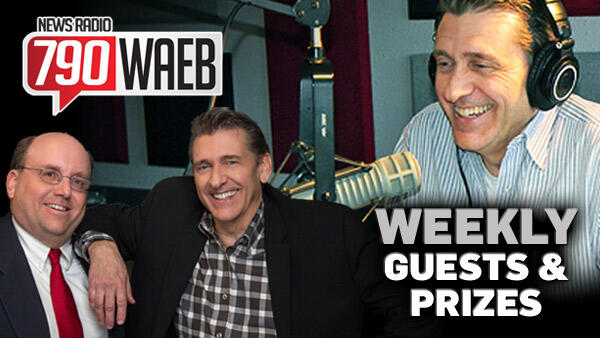 Gunther Guests – Week of Sept. 19th –
Monday, Sept. 19th –
·5:10am – Retired, Senior INS Agent – Michael Cutler – Talking about the Tactic of Republican Governors shipping Illegal Immigrants to Sanctuary Cities. | MichaelCutler.net
·9:15am – Beth Finch – Running for State House in the 132nd District against a less than ethical Democrat Incumbent – She thinks she has a shot to win in a heavy Democrat District… Gunther will talk to her about how she thinks she can do that, Monday morning! | BethFinch4PAHouse.com
·9:40am –  Michael Busler – Public Policy Analyst, Economics Expert and Professor of Finance at Stockton University – He'll discuss just how bad our economy is, how much worse is it going to get, and how soon? | Facebook: Funding Democracy – The Economics of Freedom and @MBusler on Twitter
Tuesday, Sept. 20th  -
·5:10am – Michael Busler
·9:15am – Gregory Stenstrom, Author of: 'Parallel Election: A Blueprint for Deception' – He'll talk about the Virginia Attorney General creating an Election Integrity Unit and he'll discuss how his new book proves how the 2020 Election was stolen in Pennsylvania. | ParallelElection.com
·9:40am – Mike Zhao, Author of: 'Critical Race Theory and Woke Culture: America's Dangerous Repeat of China's Cultural Revolution' – Talking about his book. | MikeZhoaforFlorida.com  
Wednesday, Sept. 21st  –
·5:10am – Gregory Stenstrom
·9:15am – Kevin McGary – Founder of Every Black Life Matters – Talking about: Why are they suddenly so silent about Vaccine Mandates… and did the way they handled the vaccine border on child abuse. | EveryBLM.com
·9:40am – Dr. Stella Immanuel – She and other Front-Line Doctors have been vindicated and deserve an apology …they were Right and the Government was Wrong. | DrStellaMD.com / AmericasFrontLineDoctors.org
Thursday, Sept. 22nd –
·5:10am – Dr. Stella Immanuel
·9:15am – Eric Caron – Former U.S. Special Agent – He says the FBI has been turned into the Federal Bureau of Injustice. He'll discuss that and the Weaponizing of the FBI, Thursday Morning with Gunther. | SwitchedonLife.com
·9:40am – Peter Navarro – One of only 3 Senior White House Officials who served President Trump from his Campaign through the end of his First Term – He is out with his latest book: 'Taking Back Trump's America: Why We Lost the White House and How We'll Win It Back' … and he'll chat with Gunther Thursday Morning! | Twitter.com @RealPNavarro
Friday, Sept. 23rd -
·5:10am – Peter Navarro
·9:15am -
·9:40am -
PRIZES TO WIN:
Win Gift Certs for Mr. Bill's – Shopping Spree – $35 Gift Certificates
Win Link Beverage - $25 Gift Cards
Win tickets for TSO - WINTER TOUR 2022 - Fri. Dec. 16th - 3pm Show - Tickets on sale PPLCenter.com
Win a pair of ticket vouchers for Johnny Mathis with Special Guest: Gary Mule Deer (The Voice of Romance Tour) at the State Theatre in Easton – Thursday, Oct. 27th. 7pm Show. Tickets on sale now: StateTheatre.org / State Theatre Box Office! Show Sponsored by WAEB AM 790!
PRIZE OFFICE REMAINS CLOSED! - Please do not come to the office! All prizes will be mailed or emailed - you will be contacted by the Promotions Department. If you have a PRIZE concern, email mandy@b104.com or call: 484-515-1105. Note: You will need a valid email address as a prize winner, as our prize office remains closed and all prize paperwork is electronic. Most concert prizes are E TICKETS. Our Prize Paperwork includes a W9 Tax Form which requires a Social. Thank you for your understanding.
Birthday Winners... if you won, please make sure you send a MAILING ADDRESS to Mandy... mandy@b104.com so we can mail out the Gift Certificate for the Hotel Bethlehem. Thanks!