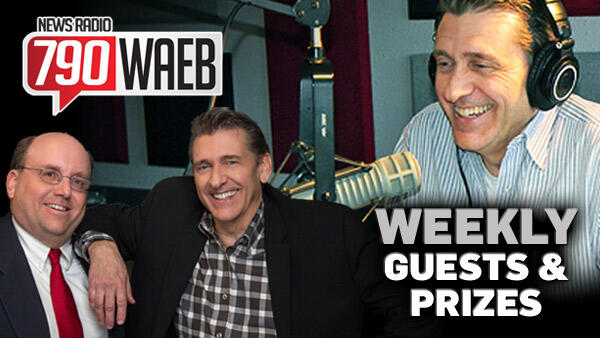 Gunther Guests - Week of Sept. 11th
Monday, Sept. 11th - REMEMBERING 9/11 RADIOTHON for Folds of Honor!
·5am to 10am - Gunther on Location at MtM Financial Group - 4505 Hanoverville Rd, Bethlehem - Pledge Line: 610-746-7007
·Don't miss the 21 Gun Salute / Honor Guard: 8:45am. It's our Final day … we really need your help! Please call and make a pledge or stop by to say hello! And in the 9AM HOUR: Gunther will talk with two recipients from Folds of Honor … hear their moving stories!  
Tuesday, Sept. 12th -
·5:10am- Paul Kamenar - Lead Counsel for the National Legal and Policy Center - He will continue to talk about the latest Trump drama including now, they're going to allow the trial in the middle of an election to be broadcast. He'll give his reaction to that, is there chance to overturn and more. | NLPC.org
·9am - 10am - Tom Del Beccaro - Author of 'The Divided Era' and writer for The Epoch Times - Talking all the hot issues … from the Hunter Biden Scandal to the Trump Saga and all he's going through, to the Republican Primary Race and more! | TomDel.com
Wednesday, Sept. 13th -
·5:10am- Tom Del Beccaro
·9:10am- Christina Bobb - Author of 'Stealing Your Vote: The Inside Story of the 2020 Election and What It Means For 2024' - She'll talk about her book. And she'll talk about election fraud … it is real and it's killing America. | SkyHorsePublishing.com / On X (formally Twitter) @ChristinaBobb
·9:40am-
Thursday, Sept. 14th -
·5:10am - Christina Bobb
·9am - 10am- Bruce Haines - Managing Partner of the Historic Hotel Bethlehem - He will talk about how Bethlehem Mayor talks a great game about having Bethlehem become a World Heritage Designation… but everything he's doing is hurting that attempt… including tearing down the Walnut Street parking garage and more! Hear about all of it, Thursday Morning | HotelBethlehem.com
Friday, Sept. 15th -
·5:10am- Bruce Haines
·9am - 10am - Retired, Senior INS Agent Michael Cutler - All things Immigration! He is talking about how ISIS affiliated smugglers have been helping Illegal Immigrants cross into America; And he'll discuss the Biden Administration welding a border gate open, and more! | MichaelCutler.net
Prizes to Win:
Win Tickets for TIM MCGRAW - June 20, 2024 in Philly! Tickets on sale now at WellsFargoCenterPhilly.com! These will be MOBILE tickets. Email Address Required!
Win Mr. Bill's – Shopping Spree – $35 Gift Certificates – 30-day rule in effect!
Link Beverage - $25 Gift Cards – 30-day rule in effect!
Win Tickets for TSO at the PPL Center on Nov. 22nd - Tickets go on sale Friday, Sept. 15th at 10am - PPLCenter.com! WAEB Pre-Sale: Thurs. Sept. 14th 10am to 10pm - use the password RADIO!
Win Lehigh Valley Iron Pigs tickets from Cyan Sky Copier Technology and Just Born Quality Confections!
PRIZE OFFICE REMAINS CLOSED! - Please do not come to the office! All prizes will be mailed or emailed - you will be contacted by the Promotions Department. If you have a PRIZE concern, email mandy@b104.com or call: 484-515-1105.
Please Note: ALL prize winners will need a valid email address to be deemed a winner. All prize paperwork is now electronic based (via Promo Suite) and most prizes are electronic as well. Most concert prizes are E TICKETS, which needs a Ticketmaster.com account / access to a Smart Phone. Our standard prize paperwork includes a W9 Tax Form which requires a valid Social Security Number. If you win up to or over $600 within a calendar year, you will be TAXED on your winnings. Thank you for your understanding.