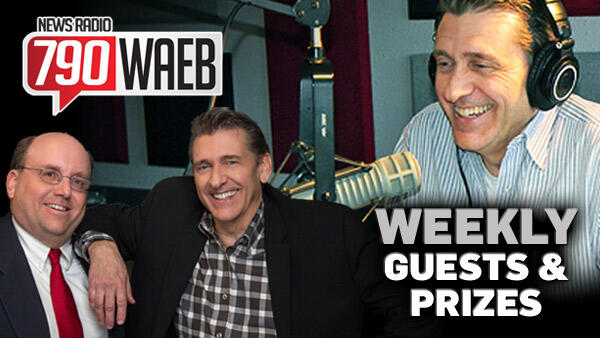 Gunther Guests – Week of Nov. 21st -  
Monday, Nov. 21st -  
·5:10am – Guy Mitchell – Author of 'Global Warming: The Great Deception – The Triumph of Dollars and Politics Over Science and Why You Should Care' – Talking about his book, and the latest tactics of the climate alarmists. | GlobalWarmingDeception.com
·9:15am – Nicki Neily – President of Parent's Defending Education – Talking about how the Global Elites are infiltrating School Districts in the Red States to brainwash your children. | ParentsDefendingED.org
·9:40am – Eric Caron – Author of the Book: 'SWITCHED ON – The Heart and Mind of a Special Agent' – Talking about the Latest allegations against Hunter Biden; And following the money with the FTX collapse… did it finance Democrats in the Mid-Terms? | SwitchedOnLife.com
Tuesday, Nov. 22nd   -
·5:10am – Eric Caron
·9:15am – Nina May, Founder and Chair of the Renaissance Women, and a Writer and Producer. She'll discuss Donald Trump officially announcing his 2024 Run. And she talk about her latest article: 'Dating the Donald: The Odyssey Continues'  | DailyBreadSeries.com / Lifezette.com (NinaMay.com)
·9:40am – Cam Edwards – Editor at BearingArms.com | Oregon's latest assault on the Second Amendment may be the biggest infringe on the Second Amendment to date. He'll discuss that and other hot Second Amendment issues. | BearingArms.com
Wednesday, Nov. 23rd   –
·5:10am – Cam Edwards
·9am - 10am – Retired, Senior INS Agent Michael Cutler – Discussing Governor Abbott calling up the National Guard to try and protect the Border, and the Biden Administration fighting him on it. We'll discuss that and more Wednesday! | MichaelCutler.net
Thursday, Nov. 24th    – THANKSGIVING / CHILDREN'S HOME KICK OFF
·5am – 10am – Gunther's Thanksgiving Day Show! Listen for Stories, Poems, Songs, Inspirations and more! Plus, Gunther will kick off the 2022 WAEB Children's Home of Easton Christmas Gift Drive and Christmas Party, powered by: MTM Financial Group. Ironton Telephone Pledge Line: 610-841-4999. See the Children's Wishlist at 790WAEB.com keyword: Gunther!
Friday, Nov. 25th  - BLACK FRIDAY / CHILDRENS HOME
·5:10am – Michael Cutler
·9:10am – Steven Rabb – Author of the Critically Acclaimed Book: 'The Founders' Speech to a Nation in Crisis: What the Founders Would Say to America' - He'll talk about what the Founders had to say about Thanksgiving, and what they would say about the War on Christmas. | TheFoundersSpeech.com
·9:45am –
PRIZES TO WIN:
That's a Fact Jack - Powered by: Jack's Glass - Weekday Mornings!
Win Mr. Bill's – Shopping Spree – $35 Gift Certificates – 30-day rule in effect!
Link Beverage - $25 Gift Cards – 30-day rule in effect!
Also, win tickets for our Lehigh Valley Phantoms at the PPL Center, courtesy of Cyan Sky Copier Technology!
AND more tickets for Journey with Toto coming to the PPL Center in Allentown on Feb. 4, 2023 - Tickets on sale PPLCenter.com! (Email Address Needed / E Tickets)
PRIZE OFFICE REMAINS CLOSED! - Please do not come to the office! All prizes will be mailed or emailed - you will be contacted by the Promotions Department. If you have a PRIZE concern, email mandy@b104.com or call: 484-515-1105. Note: You will need a valid email address as a prize winner, as our prize office remains closed and all prize paperwork is electronic. Most concert prizes are E TICKETS. Our Prize Paperwork includes a W9 Tax Form which requires a Social. Thank you for your understanding.
Birthday Winners... if you won, please make sure you send a MAILING ADDRESS to Mandy... mandy@b104.com so we can mail out the Gift Certificate for the Hotel Bethlehem. Thanks!