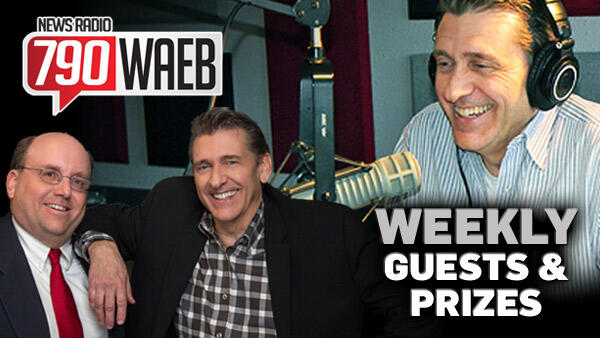 Gunther Guests –  Week of March 27th -
Monday, March 27th –
·5:10am – Retired, Senior INS Agent Michael Cutler – It's a FIASCO at the Southern Border, but Michael keeps reminding us that it's also a fiasco with Interior Enforcement! Plus, he'll give his reaction to the head of the DHS being contradicted by his Border Patrol Chief. That Chief has said "We Have Lost Control at the Border." | MichaelCutler.net
·9:15am – Valerie Christine Case – Leukemia and Lymphoma Society – Talking about the 2023 Visionary Campaign, and how you can help! And how you can join and have a lot of fun too! | LLS.org  
·9:45am – Col. Grant Newsham – Retired U.S. Marine, who served in the Indo-Pacific for Decades including in Intelligence and Liaison Roles – He'll talk about his book 'When China Attacks: A Warning to America' | Regnery.com / On Twitter: @NewshamGrant
Tuesday, March 28th    -
·5:10am – Col. Grant Newsham
·9:15am – Ranier Zitelmann – Writer for The Daily Telegraph & Forbes and has written numerous articles for Foreign Publications. Also, the author of: 'In Defense of Capitalism' – Gunther will talk to him about his book … the Defense of Capitalism. | Ranier-Zitelmann.com
·9:40am – John O'Connor – Author of the New Book: 'The Mysteries of Watergate: What Really Happened' – He'll talk about his new book, and weigh in on Donald Trump going to prison … what are the odds? | PostgateBook.com
Wednesday, March 29th   –
·5:10am – John O'Connor
·9:15am – Michael Letts - Founder, President, and CEO of InVest USA – Senator Rand Paul said that the Manhattan D.A. trying to put Trump in Jail … should be the one put in jail. Michael Letts said that's not such an absurd idea… he'll explain Wednesday | investusa.org
·9:45am – Clarence Mason Weaver – Runs the website: LeavethePlantation.org and Author of 'The Rope!: A New Perspective of Freedom and Success' and 'Tribalism: The Truth Between the Lies'  - Talking about the significant history of the Republican Party for Black America. | LeavethePlantation.org
Thursday, March 30th   -
·5:10am - Clarence Mason Weaver
·9:15am – Peter Flaherty – Chairman and CEO of the National Legal and Policy Center – Talking about: How Disney's Board of Directors has failed because they are involved in Political Issues, not meeting their primary obligations to the shareholders. We'll talk about that, Disney's involvement with China and more! | NLPC.org
·9:45am –
Friday, March 31st -
·5:10am – Peter Flaherty
·9:15am – Christina Bobb – Author of 'Stealing Your Vote: The Inside Story of the 2020 Election and What It Means for 2024' – She was a Former Investigative Reporter, began her legal career in the U.S. Marine Corps and Currently Serves as an Attorney for Donald J. Trump – She'll talk about her book and all the hot issues! What she can't talk about as Trump's Attorney is all the cases against him. | SkyHorsePublishing.com
·9:45am -
WIN PRIZES!
Win Tickets for Styx and REO Speedwagon at the Allentown Fair! Valid Email Address and Access to the Ticketmaster mobile app needed!
Where's Westgate? Contest has ended. We'll find out where they are moving, and announce our winner by Friday, March 31st!
Win Mr. Bill's – Shopping Spree – $35 Gift Certificates – 30-day rule in effect!
Link Beverage - $25 Gift Cards – 30-day rule in effect!
Also, win tickets for our Lehigh Valley Phantoms at the PPL Center, courtesy of Cyan Sky Copier Technology!
And JUST ADDED, win Lehigh Valley Iron Pigs tickets from Cyan Sky Copier Technology!
PRIZE OFFICE REMAINS CLOSED! - Please do not come to the office! All prizes will be mailed or emailed - you will be contacted by the Promotions Department. If you have a PRIZE concern, email mandy@b104.com or call: 484-515-1105. Note: You will need a valid email address as a prize winner, as our prize office remains closed and all prize paperwork is electronic. Most concert prizes are E TICKETS. Our Prize Paperwork includes a W9 Tax Form which requires a Social. Thank you for your understanding.