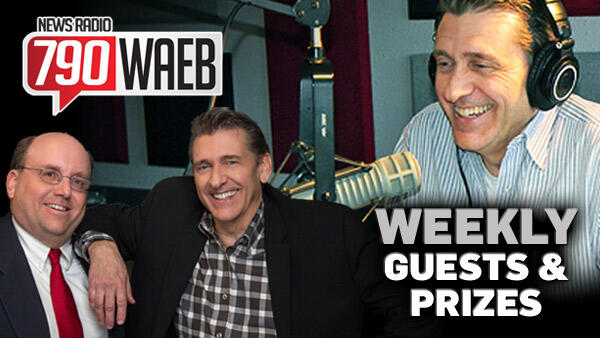 Gunther Guests – Week of March 22nd
Monday, March 22nd-
·5:10am – Michael Cutler, Retired Senior INS Agent... He'll talk about ICE arresting 4 known terrorists at the border. Who else and what else is coming in? | MichaelCutler.net
·9:10am – Walter Blanks, speaking on the behalf of the American Federation for Children – He'll talk about the National Safe School Reopening Summit and School Choice. | FederationforChildren.org
·9:40am – Conservative Pundit, Allie Bloyd – Author of 'Uncensored America' – She'll discuss the Gun Control Debates that are going on in this country and the rapid rise of the Woman Gun Owners. | No Website
Tuesday, March 23rd -
·5:10am – Allie Bloyd
·9:10am – Dr. Steven Hotze – Immunologist, Best Selling Author and Founder and CEO of Hotze Health & Wellness Center in Houston, Texas – He'll talk about the COVID vaccines...would he take them? And he'll talk about the exchange between Dr. Fauci and Rand Paul. | hotzehwc.com
·9:40am - Richard V. Battle– Author of 'Navigating Life's Journey: Common Sense in Uncommon Times' – Live from Texas... discussing the Children's Crisis at the Border in Texas. | RichardBattle.com
Wednesday, March 24th -
·5:10am – Richard V. Battle
·9:10am – Stephen Soukup, Vice President and Publisher of The Political Forum and Author of 'The Dictatorship of WOKE Capital: How Political Correctness Captured Big Business' - | No Website
·9:40am – Dr. Vermelle Greene, Author of 'Please Teach Me Like I Am A Boy' – Talking about the emasculating of young boys. He'll also talk about his book and his website: theBoysInitiative.org | theBoysInitiative.org
Thursday, March 25th –
·5:10am – Dr. Vermelle Greene
·9:10am – Dylan Howard, Author of 'Royals at War: The Untold Story of Harry and Meghan's Shocking Split with the House of Windsor' – Did he see this fiasco with Meghan Markle coming? Is she telling the truth? And why does this matter to Americans? | No Website
·9:40am – Dr. Michael Busler – Economics Expert, Public Policy Analyst and Professor of Finance at Stockton University – Discussing the latest Stimulus and how it's bankrupting America. | Funding Democracy on Facebook
Friday, March 26th-
·5:10am –Dr. Michael Busler
·9:10am – Former Georgia Congressman and Board Member of the NRA, Bob Barr – Talking about all the Second Amendment Issues that are under attack, the hot issues of the week and his latest blog. | BobBarr.org
·9:40am – Tom Del Beccaro (Tentative)
PRIZES TO WIN
Mr. Bill's– Shopping Sprees!
Link Beverage- $25 Gift Cards!
WAEB Prize Office Remains Closed... No Prize Pick Up at this time! If you won a prize in 2020 or 2021, and were not contacted by promotions, please email mandy@b104.com or call 484-515-1105. Recent winners... someone from promotions will reach out, and have you complete electronic paperwork and prizes will be mailed.
BIRTHDAY WINNERS... we need your mailing addresses! If you won a birthday certificate... please email mandy@b104.com with your MAILING address. We will mail out your certificate.