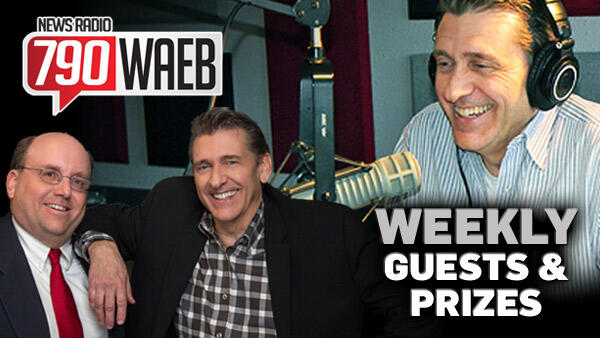 Gunther Guests – Week of March 1st
Monday, March 1st -
·5:10am –Tom Del Beccaro, Author of 'The Divided Era' and Founder of Political Vanguard, also writer for Epoch Times and Fox News – He'll update us on how his efforts are going to recall Gavin Newsom in CA, and discuss the Hot Topics of the Week. | TomDel.com and RescueCalifornia.org
·9:10am – Tom Harris, Executive Director of the Climate Science Coalition – He'll talk about Biden's Climate Misinformation. | ClimateScienceInternational.org
·9:40am – David Rubin, Former Mayor of Shiloh, Israel – He'll give his reaction and the reaction of Israelis, to Biden's Treatment of Benjamin Netanyah; And he'll talk about the Israeli Elections. | shilohisraelchildren.org & davidrubinisrael.com
Tuesday, March 2nd -
·5:10am – David Rubin
·9:10am – Marc Morano with Climate Depot.com – He's considered the #1 Climate Contrarian – He'll talk about Biden's Energy Restricting Climate Policies and how they are a National Security Threat. | Climate Depot.com
·9:40am – Dr. Patrick Moore – Author of 'Fake Invisible Catastrophes and Threats of Doom' – He'll talk about his book, and ironically how there is no way to verify these Invisible Catastrophes through Science. | CO2Coalition.org
Wednesday, March 3rd -
·5:10am –Dr. Patrick Moore
·9:10am – Horace Cooper, Senior Fellow at the National Center for Public Policy Research, Project 21 National Advisory Board Co-Chair, and a Legal Commentator – He'll talk about the COVID Relief Packages being nothing but fiscal irresponsibility. | NationalCenter.org/Project21
·9:40am – Dr. Merrill Matthews with the Institute for Policy Innovation – He says not all cold temperatures are due to climate change. Plus, he'll talk about the stimulus... or as he likes to call it 'Fraud Fest.' | ipi.org
Thursday, March 4th – BOWL A THON KICK OFF
GUNTHER WILL KICK OFF THE WAEB BOWL A THON TO BENEFIT THE CENTER FOR ANIMAL HEALTH & WELFARE.
Listen for Challenge Hours where you can double your donation dollars! Powered by: The VinArt Dealerships! Ironton Telephone Pledge Line: 610-841-4999. BOWL A THON will be held on Saturday, March 13th at Jordan Lanes. More info at 790WAEB.com!
·5:10am – Horace Cooper
·9:10am –
9:40am – Marc LeBlond – Senior Policy Analyst specializing in Education Policy with the Commonwealth Foundation – Governor Wolf wants to cut funding for Charter Schools. Marc will discuss why Governor Wolf's thinking and numbers are wrong. | CommonwealthFoundation.org
Friday, March 5th -
·5:10am – Nathan Benefield
·9am – 10am – Retired, Senior INS Agent - Michael Cutler – Discussing the continuing Saga of Joe Biden's Mid-Guided Immigration Policies and the Latest Court Rulings. | MichaelCutler.net
PRIZES TO WIN
Mr. Bill's– Shopping Sprees!

Link Beverage- $25 Gift Cards!
WAEB Prize Office Remains Closed... No Prize Pick Up at this time! If you won a prize in 2020, and were not contacted by promotions, please email mandy@b104.com or call 484-515-1105. Recent winners... someone from promotions will reach out, and have you complete electronic paperwork and prizes will be mailed.
BIRTHDAY WINNERS... we need your mailing addresses! If you won a birthday certificate... please email mandy@b104.com with your MAILING address. We will mail out your certificate.