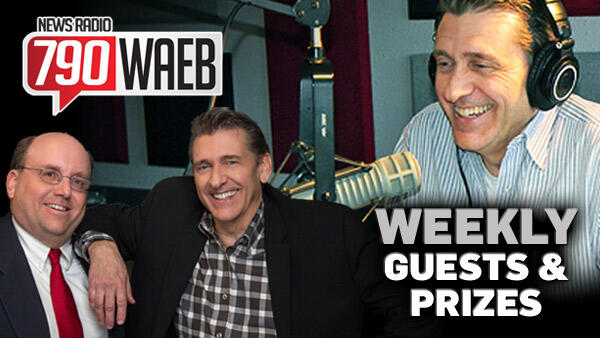 Dan's Guests - Week of Dec. 26th
Dan Holzman will be filling in for Gunther - the Week of Dec. 26th. Gunther will return after the New Year!
Monday, December 26:
Merry Christmas!!! | WAEB Programming - Gunther / Dan On Vacation!
Tuesday, December 27:
5:10am - Retired, Senior INS Agent, Michael Cutler – Giving his final rallying cry of the year about Illegal Immigration including the Crisis at the Border and Lack of Interior Enforcement.
9:10am- Reading Eagle Penn State football beat writer Rich Scarcella looks back on the 2022 regular season and previews the Nittany Lions' Rose Bowl game against Utah.
9:40am - Dan Shyti, author of 'American Gaslighting: How America is Being Systematically Taught to Hate Itself", discusses how and why Americans have been deliberately gaslit by the American left into hating their own country.
Wednesday, December 28:
5:10am- Rich Scarcella
9:10am- Host of WAEB's 'More Than Money' Gene Dickison is talking about a rough 2022 on Wall Street, previews what 2023 might hold and gives a general overview of the American economy as we head into a new year.
9:40am- Tim Furey, Senior Fellow at Project Sentinel and crypto currency expert, takes a look at the FTX scandal, the future of cryptocurrencies and what, if any, impact the scandal has on the typical Lehigh Valley resident.
Thursday, December 29:
5:10am- Gene Dickison
9:10am- Marni Goldman, mental health expert, author of "True To Myself: Peace, Love Marni" and life coach, offers four mental health New Year's resolutions. A sneak peek? None of the four will be particularly easy to follow through on.
9:40am- Co-Director of Our America Gabriel Nadales will talk about the concerted effort to normalize pedophilia by some of the most influential institutions and brands in America.
Friday, December 30:
5:10am- Marni Goldman
9:10am-  A special end-of-year hour featuring your phone calls on predictions for 2023 and a look back to see how right (or wrong) we all were with our predictions on the last show of 2021. Your calls will make this hour…so be ready to join in!
PRIZES TO WIN:
That's a Fact Jack - Powered by: Jack's Glass - Weekday Mornings!
Win Mr. Bill's – Shopping Spree – $35 Gift Certificates – 30-day rule in effect!
Link Beverage - $25 Gift Cards – 30-day rule in effect!
Also, win tickets for our Lehigh Valley Phantoms at the PPL Center, courtesy of Cyan Sky Copier Technology!
Dan also has your chance to win INDOOR AUTO RACING tickets for the PPL Center in Allentown on Jan. 6th and 7th thanks to our friends at Ironton Global! (Email Address Required for these Tickets)
Plus, tickets to see the FOUR TOPS and the TEMPTATIONS at the Wind Creek Event Center on May 13, 2023. (Guest List Tickets / Valid Email Address Needed for E Paperwork)
PRIZE OFFICE REMAINS CLOSED! - Please do not come to the office! All prizes will be mailed or emailed - you will be contacted by the Promotions Department. If you have a PRIZE concern, email mandy@b104.com or call: 484-515-1105. Note: You will need a valid email address as a prize winner, as our prize office remains closed and all prize paperwork is electronic. Most concert prizes are E TICKETS. Our Prize Paperwork includes a W9 Tax Form which requires a Social. Thank you for your understanding.
Birthday Winners... if you won, please make sure you send a MAILING ADDRESS to Mandy... mandy@b104.com so we can mail out the Gift Certificate for the Hotel Bethlehem. Thanks!