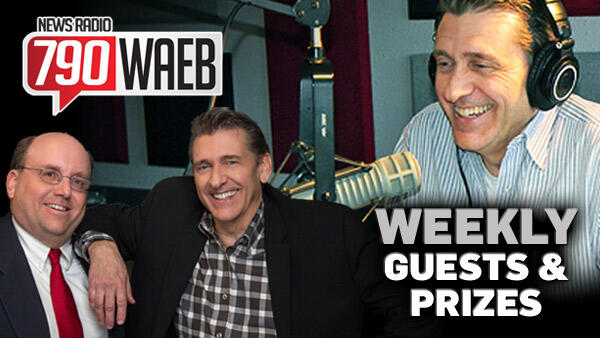 Dan Holzman's Guests - Week of Aug. 8th (Gunther on Vacation)
Monday, August 8
5:10am - Retired Sr. INS agent Michael Cutler takes us to the U.S./Mexico border and dives into all the problems there.
9:10am- Derek Kreifels, with the State Financial Officers Foundation, reveals just how much pressure is mounting on businesses (big and small) to include policies that promote abortion within their 'Environmental, Social and Governance' policies.
9:40am- Co-founder of 'Moms For Liberty' Tina Descovich talks about her organization, its desire to start chapters here in the Lehigh Valley and the constant fight to keep the woke agenda out of our children's schools.
Tuesday, August 9
5:10am- Derek Kreifels
9:10am- Bryan Mark Rigg, author of "Flamethrower: Iwo Jima Medal of Honor Recipient and U.S. Marine Woody Williams and His Controversial Award, is the guest. Bryan will talk about the last remaining World War II Medal of Honor recipient, his story and why him getting that Medal of Honor wasn't as cut and dried as it normally would be.
9:40am- Legendary Philadelphia Eagles announcer Merrill Reese previews the 2022 Eagles season. Who are the rookies to watch in preseason? How much will quarterback Jalen Hurts play in the preseason? Merrill answers those and other questions.
Wednesday, August 10
5:10am- Bryan Mark Rigg
9:10am- PennDOT spokesman Diego Sandino is here to explain REAL ID. Who needs it? Who doesn't need it? When is it coming? Why is it being required? All those questions and more will be answered by Diego.
9:40am- Libertarian candidate for Governor of Pennsylvania and Lehigh Valley resident Matt Hackenburg talks about his candidacy, what separates him from Republican candidate Doug Mastriano and whether he is even a viable candidate for the upcoming election.
Thursday, August 11
5:10am- Diego Sandino
9:10am- PTSD survivor, spiritual life coach and author Marni Goldman discusses her difficult life story, her book "True To Myself: Peace, Love, Marni" and how your mood can effect everyone around you. If you are called a 'Debbie Downer', this guest is a must-listen!
9:40am- Executive Director of Honest Elections Project Jason Snead takes a look at what last week's Pennsylvania Supreme Court ruling allowing no-excuse mail-in voting will mean in November and beyond.
Friday, August 12
5:10am- Marni Goldman
9:10am- Solidarity HealthShare President Chris Faddis is talking about the Biden administration's latest efforts to deny the medical conscience rights of Americans and force them to comply with a radical leftist agenda that conflicts with their values.
9:40am- Author of "Critical Race Theory and Woke Culture: America's Dangerous Repeat of China's Cultural Revolution" Mike Zhao is the guest. Mike, who is also running for office in Florida, will explain how the left is using Mao's playbook to destroy America.
PRIZES TO WIN:
Win Gift Certs for Mr. Bill's – Shopping Spree – $35 Gift Certificates
Win Link Beverage - $25 Gift Cards
Win a pair of tickets to see Englebert Humperdinck - 12.16.22 at the Wind Creek Event Center - Tickets on sale now at WindCreekEventCenter.com! (Guest List Tickets)
Win a pair of tickets for Barry Manilow: The Hits Tour - coming to the PPL Center in Allentown on August 12th - Tickets available at PPLcenter.com! (Email Tickets / Valid Email Address Needed)
PRIZE OFFICE REMAINS CLOSED! - Please do not come to the office! All prizes will be mailed or emailed - you will be contacted by the Promotions Department. If you have a PRIZE concern, email mandy@b104.com or call: 484-515-1105. Note: You will need a valid email address as a prize winner, as our prize office remains closed and all prize paperwork is electronic. Most concert prizes are E TICKETS. Our Prize Paperwork includes a W9 Tax Form which requires a Social. Thank you for your understanding.
Birthday Winners... if you won, please make sure you send a MAILING ADDRESS to Mandy... mandy@b104.com so we can mail out the Gift Certificate for the Hotel Bethlehem. Thanks!