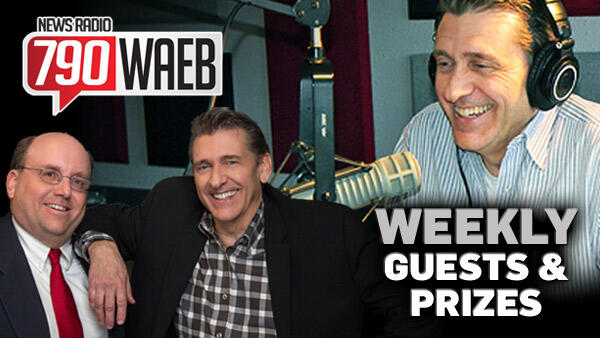 Dan Holzman in for Bobby Gunther Walsh, who is out on vacation.
Monday, August 14
5:10am- Rachel Ehrenfeld, author of 'The Soros Agenda' is talking about what that agenda is and why George Soros' son, Alex, is at the White House so often.

9:10am- Jason Snead, Executive Director of Honest Elections Project, will discuss new polling on where Americans are in terms of photo ID at the ballot box, early voting, mail-in voting and much more.
9:40am- Ed Dowd, author of 'Cause Unknown: The Epidemic of Sudden Deaths in 2021 & 2022', is the guest. Ed will be talking about what his digging has uncovered about a spike in deaths and serious illness among previously healthy younger people. Ed is also close to Democratic presidential hopeful Robert Kennedy Jr. and lives in wildfire-ravaged Hawaii, so there will be plenty of ground to cover.
Tuesday, August 15
9:10am- Jack Cashill, author of 'Untenable: The True Story of White Ethnic Flight from America's cities, will give his brutally honest assessment as to the real reason why white families are fleeing America's cities and why many minority families wish they could do likewise.
9:40am- Rainer Zitelmann, author of In Defense of Capitalism, is the guest. Rainer will take a look at just how under attack capitalism is in both the U.S. and abroad and lay out his defense as to why the U.S. desperately needs Reaganomics and not Bidenomics for our sake both now and years in the future.
Wednesday, August 16
9:10am- On the anniversary of the death of Elvis Presley, author Sally Hoedel talks about her two books written about 'The King', a third one that's in the works and tries to separate fact from myth when it comes to the legendary Elvis Presley.
9:40am- Author Jane Leavy is talking about her book, 'The Big Fella', which looks at the remarkable (bigger than) life of the legendary Babe Ruth. Today marks the 75th anniversary of The Babe's death and Jane will discuss how he was several decades ahead of his time in terms of self-promotion and becoming a money machine off the field.
Thursday, August 17
9:10am- Forensic psychiatrist, body language expert and columnist of "Inside the Criminal Mind" Carole Lieberman is the guest. She'll be talking about accused quadruple murderer Bryan Kohberger, what makes him tick and parallels she sees between Kohberger and the 'Unibomber' Ted Kazcynski.
9:40am- Longtime Philadelphia Eagles play-by-play announcer Merrill Reese previews the upcoming Eagles season. Can the Eagles go back to the Super Bowl? History says probably not. Merrill offers his take.
Friday, August 18
9:10am- James Fishback, founder and executive director of Incubate Debate, will answer the question, 'Should Donald Trump bother showing up for the first Republican debate?'. He'll also discuss the future of debating and whether there even is a future for that format in the era of shouting down anybody with a different opinion than yours.
9:40am- Honorary Chairperson of Tea Party Patriots Action Jenny Beth Martin will talk about a wide range of issues from a special prosecutor named to investigate Hunter Biden's activities, protecting gas stoves and how the success of the movie "The Sound of Freedom" and Jason Aldean's chart-topping song, "Try That in a Small Town', shows woke isn't winning.
PRIZES TO WIN:
Win Tickets for TIM MCGRAW - June 20, 2024 in Philly! Tickets on sale now at WellsFargoCenterPhilly.com! These will be MOBILE tickets. Email Address Required!
Win Mr. Bill's – Shopping Spree – $35 Gift Certificates – 30-day rule in effect!
Link Beverage - $25 Gift Cards – 30-day rule in effect!
Win Lehigh Valley Iron Pigs tickets from Cyan Sky Copier Technology and Just Born Quality Confections!
PRIZE OFFICE REMAINS CLOSED! - Please do not come to the office! All prizes will be mailed or emailed - you will be contacted by the Promotions Department. If you have a PRIZE concern, email mandy@b104.com or call: 484-515-1105.
Please Note: ALL prize winners will need a valid email address to be deemed a winner. All prize paperwork is now electronic based (via Promo Suite) and most prizes are electronic as well. Most concert prizes are E TICKETS, which needs a Ticketmaster.com account / access to a Smart Phone. Our standard prize paperwork includes a W9 Tax Form which requires a valid Social Security Number. If you win up to or over $600 within a calendar year, you will be TAXED on your winnings. Thank you for your understanding